Light, Airy and Welcoming Cattery Near Ashford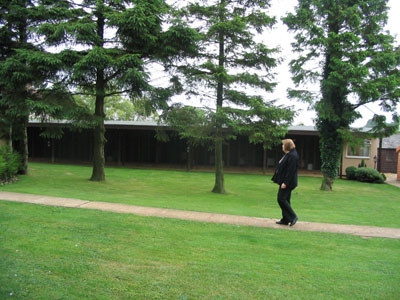 The Wyncot Cattery is a bespoke design and purpose built facility located in the front garden of our home adjacent to the house. As all cat owners know - and we at Wyncot are cat owners ourselves - our feline pets are discerning and shrewd customers who think only the best will do (and rightly so, we think), so when considering the layout for the cattery the feline guest viewpoint was paramount.
The garden is over half an acre in size, is populated with numerous shrubs and mature trees, nest boxes and bird feeders to attract the birds and wildlife which our feline guests adore to watch. The garden also has a long boundary fence with the adjacent Wye National Nature Reserve and woodlands which attracts a diverse and extensive concentration of birds and animals both day and night, for those night-time attractions which our feline guests appreciate.
Cats like to look and watch, from the security of the perfect perch, which offers comfort with shelter At Wyncot all our cat units have a full and unrestricted view of the garden and enables them to watch all that happens throughout the day. The cattery building is light and airy with a fully open front for maximum view of the garden so that our guests can watch the wildlife. Within the Wyncot cattery each guest unit has two rooms; a daytime area, with scratching post, toys and a daybed with wide double shelf; an upper shelf for the gregarious types where the resident guest can sit and view the gardens and wildlife; and a lower shelf which acts like an igloo where shy feline guests can feel safe, but still keep their eyes on the world. There is also a heated sleeping area with upper level bed, window, litter tray, food and water, etc.
Book Your Cat's Holiday Home
Wyncot Kennels and Cattery is located near to Ashford, Canterbury, Folkestone, Dover and Hythe and we run a pet transport service if you have difficulty getting your cat to and from our premises.
You are welcome to visit us and look round during our opening hours.
Opening times are 08.30 to 11.00 and 14.00 to 17.00 daily.